Our Data Driven UX Design Process (3DUX®)
What is the goal of our Data Driven UX Design process (3DUX® for short)? We want your product to inspire users. That means good usability as a foundation and an outstanding user experience as a result of pragmatic user testing and user-centered user interface design. In addition, we want to give you the security of developing a product that real users want and need, right from the start.
With our Data Driven UX Design process (3DUX® for short), you can make important design decisions based on data and tailor your product precisely to what real users want. Involved early, the process can save you costly product revisions late in development. We present the process step by step on this page.
Recruiting the right users is essential for the success of your studies. For recruitment, we draw on a very large database of participants. This enables us to recruit experts of all kinds as well as lay people for your tests.
This first step is extremely important to ensure that you obtain valid data from your user tests. If you test with the wrong users, you lose the chance to find out what your users really want and need.
Getting to know the contact of use
Here we gain a basic understanding of your users, their goals, tasks, workflows, resources, and the use environment in which your product will be applied. Only with this knowledge can your product be optimally tailored to your users.
If you are developing a product for multiple user groups, this is not a problem either. Here, it is even more important to get to know each usage context separately in order to be able to address the differences in the product design.
Deriving the use requirements
What do your users want? What do they need to perform their task to their satisfaction and effectively? We derive the most important use requirements from the data obtained in the analysis of the use context.
In this step, we thus determine what your product must do at a minimum in order to achieve very good usability and user experience.
Outstanding UX through iterations
Initial solution approaches then emerge from the user requirements. These are tested as prototypes with real users for acceptance, usefulness and UX. In other words, this is where you find out whether users are happy and comfortable working with the respective solution approach.
Especially important: Potential for improvement is generated here. We then use the identified potential for improvement to design the user interface of your product. From the basic process to the glossy finish. Afterwards, it is further improved iteratively in UX tests.
We document the tests and pass on the results to the development team.
The user experience is great and the users are happy? Great, now it's time to plan the roadmap for the next product features.
Find the right method for your question
Our UX-method-assistant offers you the possibility to make a pre-selection of UX / UI methods based on your questions. In small profiles, you will get to know the individual methods and how they work. A mix of different methods is also conceivable!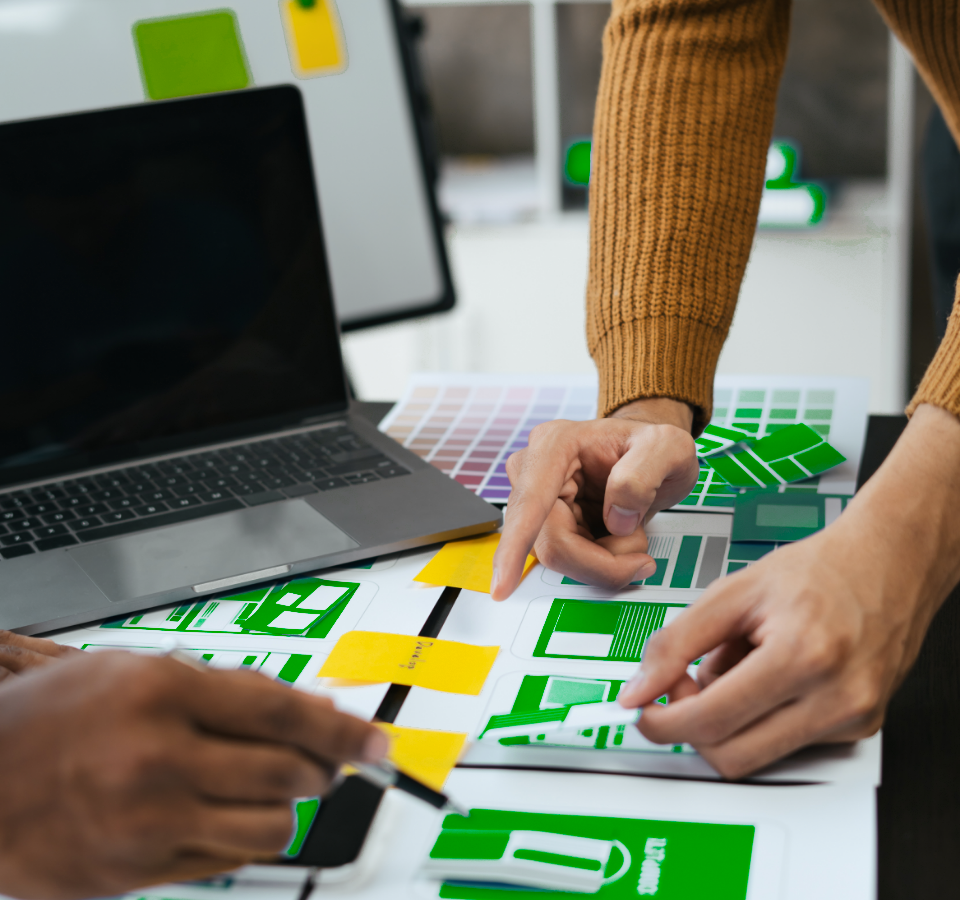 Knowledge about Usability and UX Design
With our expert articles you can learn more about usability and UX, psychological product design and user interface design. In addition, we introduce basic terms of our daily work and individual UX / UI methods here.
What is your specific case? We would be happy to find out together in a free, no-obligation, get-to-know-you meeting what challenges we can help you with. We look forward to hearing from you!